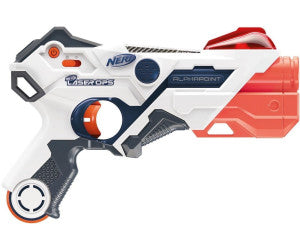 Please choose your gun quantity
10 guns  = £70 + 50 refundable deposit
15 guns = £98 + 75 refundable deposit
20 guns = £120 + 100 refundable deposit
25 guns = £150 + 125 refundable deposit
Also included:  game ideas and clear instructions.
WIFI is not needed for basic team games, last man standing or red vs blue.
Guns come with spare batteries and are ready straight out of the box for red vs blue play, or you can link them to your phone with the APP (free download) and then do timmed games and create a leaderboard etc
For older children or the more adventurous, they can AMP UP their game play by using each gun with Bluetooth and Wi-Fi.  This allows each person to  use the gun with their phone to get more privilages the more they play and win.  This includes radar, more power, extra life and many other upgrades!
With a phone and WIFI the guns can also be used for VR play where you battle and shoot ttatking enimies only you can see on your phone.
Here is the official Hasbro description:
''The Nerf Laser Ops Pro AlphaPoint blaster gives players everything they need to face off in head-to-head live-action laser battles right out of the box!* It fires a single-shot IR burst with each trigger pull and registers hits with lights and sounds, while lights display health status and ammo capacity. The blaster has unlimited ammo and a quick-reload button to replenish supply. Select to face off in a team or free-for-all. Adjust for the environment with the indoor-outdoor switch. Battlers can amp up their play via the free Laser Ops app by using the included armband? to wear a smartphone device (not included) on their arm. In the app, they can access real-time battle intel that allows them to customise the blaster, track their performance, earn power-ups, and locate opponents during battle. Attach the included solo attachment to the blaster for single-player battling with the app. Not compatible with Nerf Lazer Tag blasters. Battle-ready out of the box* -- amp up play with the app. Light and sound effects, unlimited ammo, quick-reload button. Health, ammo, and team indicators customise blaster, track performance, detect enemies.'